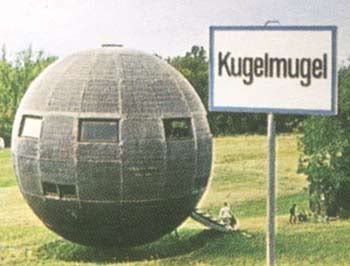 Cabinet Magazine
published a fascinating
timeline of twenty-two important spheres
. Shown above is the independent micronation of Kugelmugel. From the author's description:
"After a dispute with the Austrian government over the construction of his spherical house, Austrian artist Edwin Lipburger declares his property an independent nation and renames it the Republic of Kugelmugel. Lipburger is sentenced to jail for his refusal to pay taxes and insistence on printing his own stamps. However, a pardon from the Austrian president saves him from serving time."
Via the original kirchersociety.org.